Secrets of the Game now available on Amazon
I'm happy to report that Secrets of The Game:  What Alpha Males, Pickup Artists and Beautiful Women Never Tell about Love vs. Lust, Marriage vs. Bachelor Life is now available for sale on Amazon in both Kindle and Paperback formats!
There are a ton of books on marriage out there, and there are a ton on pickup up women and living the "player lifestyle," but few get to the core on how to achieve the peak in both realms, and more importantly, how to decide which is right for you!  Targeted towards men, also includes an in-depth analysis on what truly makes a woman "wife-material," something ALL men need to read!  Go check it out now and let me know what you think!  -Dylan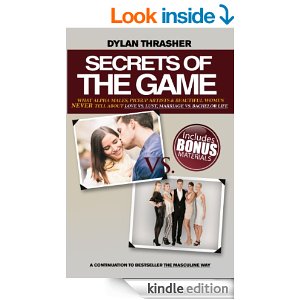 The book contains element of date coaching, relationship coaching, love coaching and marriage coaching!
Tags: Date Coaching, Dylan Thrasher, Life Coaching, Love Coaching, Marriage Coaching, Relationship Coaching, Secrets of the Game, What is Wife-Material?
---